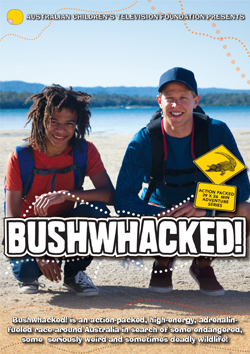 Bushwhacked! - Series 3 - Digital Download
Kayne is ready to brave Kamil's new round of bigger and bolder adrenalin-fuelled outback missions in Bushwhacked! - Series 3.
Bushwhacked! follows Wiradjuri boy Kamil Ellis and Kayne Tremills as they traverse remote corners of Australia in search of weird and wonderful wildlife, Indigenous rites and rituals, and of course adrenalin-fuelled, dramatic missions.
Running time: 13 x 26 mins
Product Type: TV Series 720p Files
ISBN: BW3HD
Price: $20.00
---