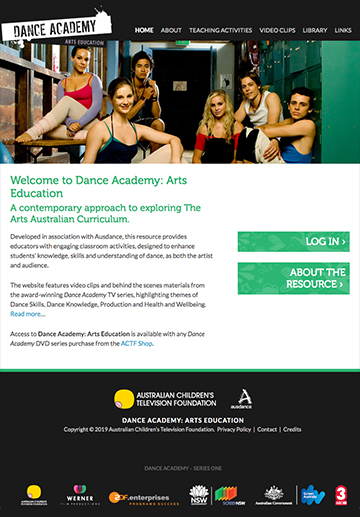 Dance Academy: Arts Education - Website Access
Dance Academy: Arts Education supports Middle Years educators with engaging classroom activities, designed to enhance students' knowledge, skills and understanding of dance, as both an artist and audience.
The website features video clips and production materials from the award-winning television series Dance Academy, stimulus for over 100 downloadable teaching activities that have been aligned with the Australian Curriculum areas of The Arts (Dance, Drama, Media, and Visual), English and Health and Physical Education (Personal Development).
Each activity provides educators with a contemporary approach to exploring elements of The Arts within their classroom, matched with printable student activity sheets and links to additional support materials – including instructional video clips and fact sheets developed by Ausdance.
Product Type: Website Access
ISBN: DAWEB
Price: $5.00
---