The Inbestigators Q&A Webinar
Fri 22 Nov 2019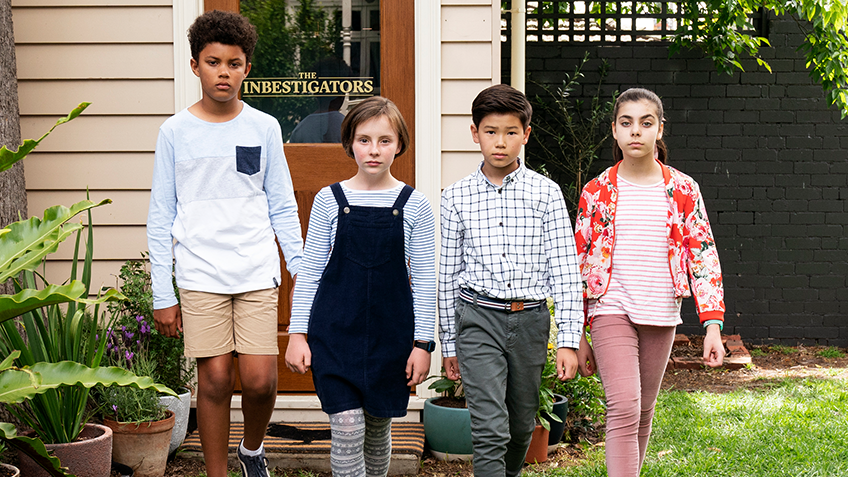 On Friday, November 22, students from primary schools around Australia will have a unique opportunity to be part of a live Q&A webinar with The Inbestigators cast members: Anna Cooke (Maudie); Aston Droomer (Ezra); Abby Bergman (Ava); and Jamil Smyth-Secka (Kyle).
Students will be able to ask questions to Anna, Aston, Abby and Jamil about acting, advice they might have and being involved in such a popular series like The Inbestigators. The webinar is open to Years 3-6 students.
Places will be limited. Register your class today.
The Inbestigators Cast Q&A Webinar for Primary Students
Date: Friday, November 22
Times:
ACT, NSW, TAS & VIC: 12.15pm – 1.00pm (AEDT)
SA: 11.45am – 12.30pm (ACDT)
QLD: 11.15am – 12.00pm (AEST)
NT: 10.45am – 11.30am (ACST)
WA: 9.15am – 10.00am (AWST)
Year Levels: Years 3 – 6
Cost: Free
For more details: education@actf.com.au
For Teachers:
The Inbestigators Synopsis: After Maudie, a ten-year-old puzzle prodigy, solves a crime on her first day at school with her new classmates Ezra, Ava and Kyle, the future is obvious: the four children must form a detective agency together.
Operating out of the granny flat in Ezra's backyard, these funny and disparate kids from Grade Five solve one thorny school playground or neighbourhood mystery after another, and become best friends in the process.
Themes: Communities, Curiosity, Friendship, Genre, Problem-Solving
Curriculum Areas: Critical and Creative Thinking, English, Personal and Social Capability
The Inbestigators is available to download & own from the ACTF Shop.