Learn about 1912 Olympic Medal-winner, Wilhelmina Wylie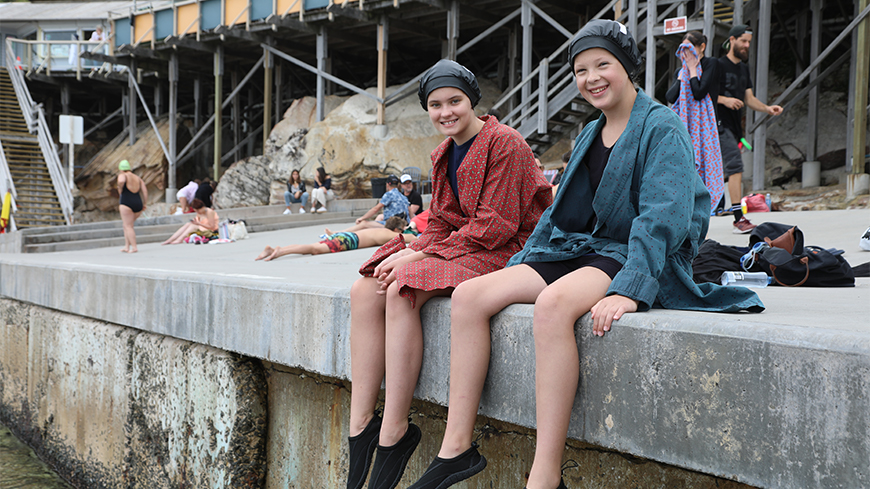 Living history series Are You Tougher than Your Ancestors? explores historic periods and events through the eyes of children who were there. Each episode reveals the incredible true story of a resilient and courageous child from the past, and challenges modern-day children to emulate their experiences.
In the episode 'Olympia!', young swimmers Sienna and Paige attempt to beat the Olympic medal-winning time of Wilhelmina ('Mina') Wylie. Mina and her friend – and fierce competitor – Fanny Durack were Australia's first female Olympians. Prior to their inclusion in the 1912 Stockholm Games, women were not allowed to compete in the Olympics.
This episode sees Sienna and Paige train and race at Mina's home pool, Wylie's Baths in Coogee. To really walk in Mina's shoes, they also need to swim the Trudgen stroke, wear woollen bathers and forego goggles! Just as the girls are making progress, they are asked to perform one of Mina's water ballets before they can race. Mina received minimal support to head to the Games, so she raised money through performances to help pay her way.
Will Sienna and Paige be able to handle the rough conditions, learn the Trudgen, complete the mermaid stunt, and beat Mina's time? Will they be tougher than their ancestors?
Find curated clips and learning tasks to explore Mina's story further in our free Are You Tougher than Your Ancestors? Teaching Toolkit. This Teaching Toolkit was written as a History resource for Foundation to Year 6 teachers and students. Episodes and suggested learning tasks relate to the key understandings and inquiry skills outlined in the History sub-strand of the F-6/7 Humanities and Social Sciences curriculum.
Teachers, stream this episode on ABC iview or find the full Are You Tougher than Your Ancestors? series in the ACTF Shop.