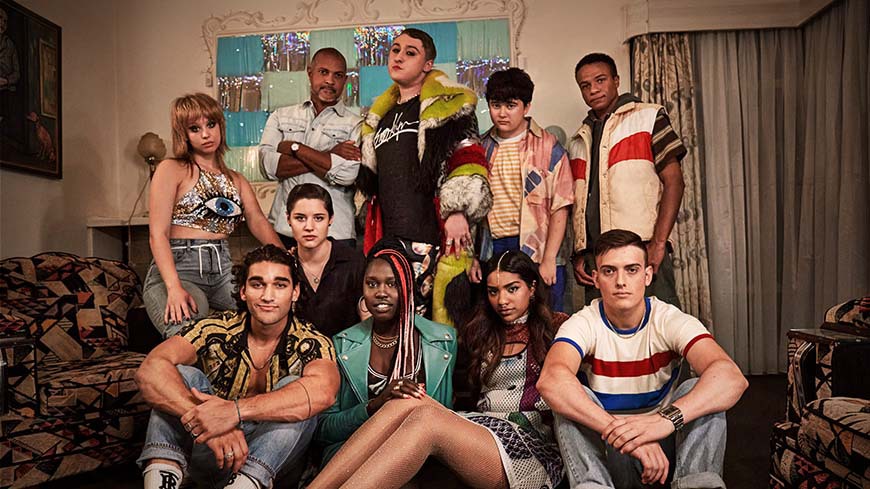 More Than This to premiere on Paramount+ next month
The ground-breaking six-part drama series More Than This will stream on Paramount+ from Friday, 4 March.
Written and created by teen actor Olivia Deeble, More Than This is the real, authentic and often raw story of five 17-year-old students and their teacher, whose diverse worlds collide when they are thrown together into a Year 12 English class.
The series explores the unique challenges facing Australian teenagers as they come of age: social, family and school pressures, bullying, body image, relationships and sexuality.
The diverse cast of characters was created by Olivia and Luka Gracie, an 18-year-old trans non-binary actor and filmmaker. They both star in the series alongside a talented cast including Kamil Ellis (Nowhere Boys), Ellmir Asipi (Neighbours), model/actor Josh Heuston (Dive Club), Oisin O'Leary (Little Lunch), Celine Ajobong (Mustangs FC), Tharanya Tharan (Mustangs FC) and newcomer Selena Brincat, along with theatre and television regular Bert Labonte as their teacher.
Olivia, who is best known for her roles on Little Lunch, Home and Away, and Disney feature film The Secret Society of Second Born Royals, is an exciting new writing talent.
She began writing the series when she was just 17 and completing Year 12 during Melbourne's lockdown, frustrated by the lack of authentic high school shows available to her.
She said: "It has been a labour of love bringing together characters that are inspired by the high school experience of me and my friends. I wanted to tell stories that speak to an Australian high school experience, not generated from a US stereotype. I am passionate about teenagers being authentically represented on screen, I am passionate about diversity and inclusion, and I am so proud of More Than This."
Character co-creator and co-star Luka Gracie said: "More Than This has characters that feel so realistic to an Australian teenager perspective, showing different ethnicities, sexualities, genders, and body types. It was about showing the true diversity of an Australian school. I hope young people see themselves on screen, relate to these beautiful characters and feel less alone."
The series is produced by television veteran Kate Gorman and directed by Kate and John Sheedy (H is for Happiness).
Kate said: "As a mother of teenagers I thought I knew a lot, but it has been humbling to put myself in the shoes of these young adult creators and actors and learn to listen to what is important to them. By putting the authentic teen voice first in every part of the creative process, I have been able to experience how truly complicated, hard, wonderful and exciting life can be for teens today."
Executive Producer Bernadette O'Mahony said: "This series is world class – the stories are raw, gritty and real, and the performances are extraordinary. I don't know of any other major series anywhere in the world wholly written by a 17-year-old. This will appeal to teens, young adults and adults alike. We talk about authenticity in storytelling: this is truly it. I am very proud of this series and can't wait to see what Olivia does next."
More Than This is a Baby Banksia production, produced in association with Big Finish Creative, Shapeshifter Studios and the Australian Children's Television Foundation. It is produced by Charmaine Gorman and Kate Gorman. Executive producers are Jason Haigh-Ellery, David Devjak and Bernadette O'Mahony. Directed by John Sheedy and Kate Gorman. Written and created by Olivia Deeble with characters created by Olivia Deeble and Luka Gracie.