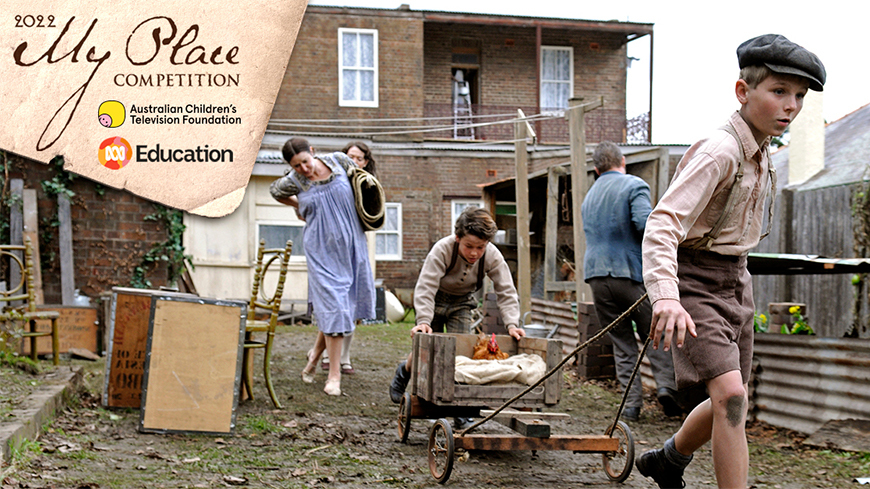 Announcing the 2022 My Place Competition
Pull out your planners: the My Place Competition returns in Term Three.
The My Place television series, based on the classic picture book by Nadia Wheatley and Donna Rawlins, is a 'time machine' which takes audiences back into the past. It depicts the history of one Australian community through the eyes of the diverse children who lived there, highlighting the ways that people and places shape our national story.
Drawing on the text's themes of continuity and change, the 2022 My Place Competition prompts students to reflect on life in their own evolving places and communities. What changes have occurred in the natural and built environments, and what remains constant? Do the people in your community have a long connection to the area or are groups ever shifting and changing? How has your own relationship to place changed or continued over time?
We are asking Australian children: tell us about your place.
Jointly presented by ABC Education and the Australian Children's Television Foundation, the 2022 My Place Competition is open to primary students in Years 1 – 6, secondary students in Years 7 and 8, and special education students of all ages. Participants are invited to submit a short story via the competition page between 15 August – 16 September 2022, with the following word limits applying:
Year 1 and 2 – Up to 200 words / 2 pages
Year 3 and 4 – Up to 500 words
Year 5 and 6 – Up to 750 words
Year 7 and 8 - Up to 1000 words
Special Education – No word limit
Further details about competition partners, judging, prizes and support materials will be released closer to the entry date. Follow ABC Education and the ACTF to stay up to date!