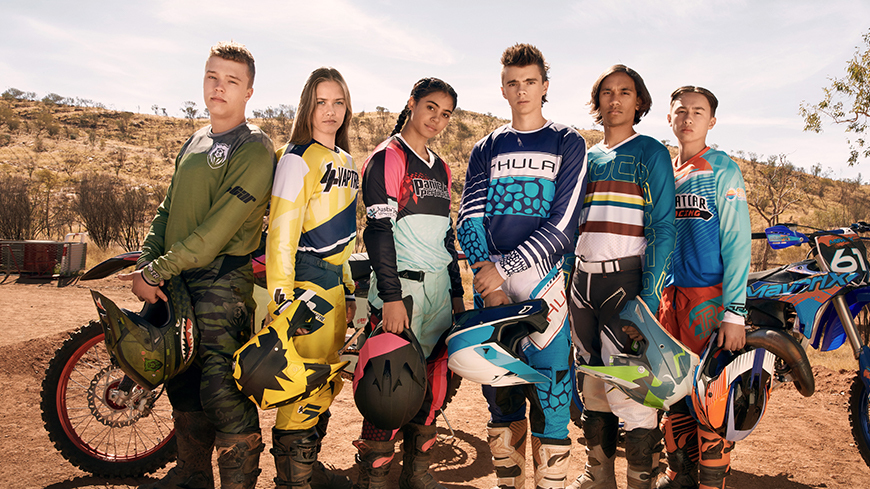 Thrilling new series MaveriX forefronts teen grit, courage, and teamwork
10- to 14-year-olds will love this high adrenaline drama series, in which six young motocross riders come together to form a team and make the national titles – or crash out trying.
Set to premier on ABC ME and iview on Friday 1 April, MaveriX follows a group of junior motocross riders who make up the first intake of the MaveriX Academy in Australia's stunning red centre.
Throughout this exciting 10-part drama series, the disparate teen characters learn that becoming a champion requires skill, courage, strategy, passion and determination – but also heart.
Coached by former Supercross champion Cameron 'Griffo' Griffin, six teenagers are pushed to their limits as they live, train and compete together, each trying to prove themselves in different ways.
In highlighting the challenges these teens face as they live and train together, the series forefronts the importance of perseverance, courage, resilience and teamwork in both their motocross pursuits and in their relationships. Linking to curriculum content for Health and Physical Education and Personal and Social Capability, these themes will be explored in forthcoming educational resources for the series.
Teachers, do you have adventurous students who would love this adrenaline-fuelled drama series? They can discover the world of MaveriX on ABC ME and ABC iview from Friday 1 April.