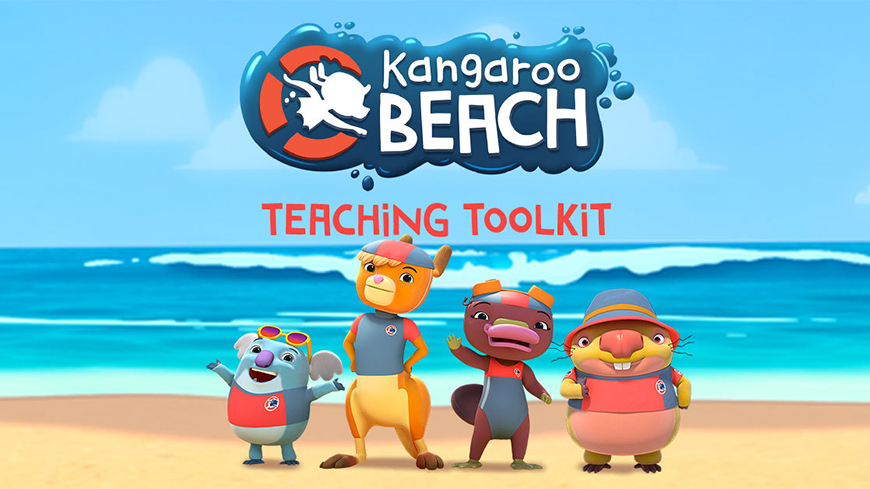 Promote water safe behaviours with Kangaroo Beach
In Kangaroo Beach, four young animal friends, Pounce, Gemma, Neville and Frizzy, spend an action-packed summer training as junior cadets with their lifeguard heroes. Our new F-2 teaching resource forefronts the water safety messages in the series.
Kangaroo Beach sees grown-up lifeguards Bondi, Sandy and Big Trev impart water safety knowledge and skills that will help keep the cadets and other beachgoers safe all summer. This means that the animated series is not only fun for children to watch; it also empowers them by modelling safe behaviours in each episode. When co-viewing the series with adults, young viewers can ask questions, share their ideas and consolidate their water safety understandings.
To draw out key messages in the series, the ACTF has developed the Kangaroo Beach Teaching Toolkit – a water safety education resource for F-2 students and teachers. The resource contains eight lesson plans to use alongside school swimming lessons, as part of class inquiries into health and safety, or to address Health and Physical Education curriculum content in an engaging way.
Lesson plans correspond to key learning areas in the National Swimming and Water Safety Framework, addressing Hazards and Personal Safety, Entries and Exits, Flotation, Swimming, Underwater, Lifesaving, Rescue, and Survival Sequence. Each lesson identifies a relevant Kangaroo Beach episode and water safety message, lists comprehension questions for the class or individual students, and includes a student activity sheet related to the theme. Lessons are linked to F-2 Health and Physical Education, Media Arts and Personal and Social Capability content descriptors in the Australian Curriculum.
This free resource will improve or consolidate students' knowledge of safe behaviours around water, empowering them to contribute to their own safety. Download now from the ACTF website.