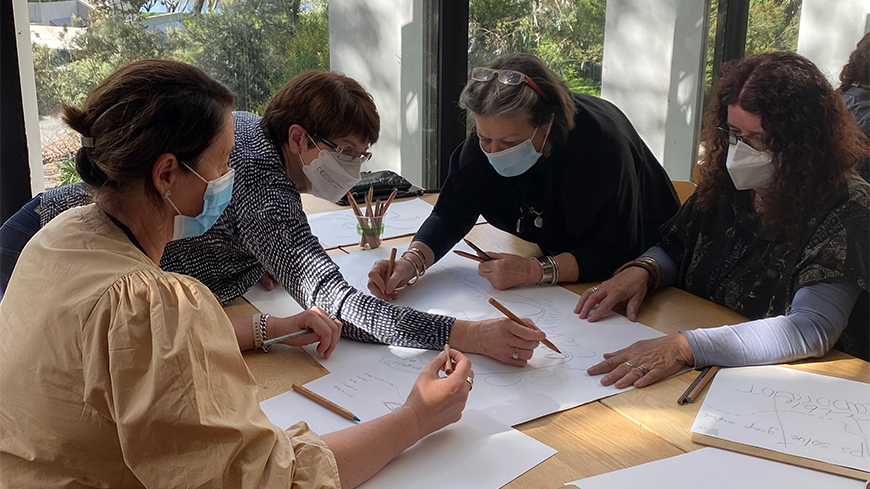 Thalu featured at National Visual Art Education Conference
Teachers and education professionals from across the country gathered to celebrate First Nations education at the National Gallery of Australia from 21 – 23 April.
The National Visual Art Education Conference was presented this year alongside the 4th National Indigenous Art Triennial, with a program which centred the work of First Nations artists, educators and thought leaders. The active learning experiences offered throughout aimed to challenge, inspire and empower educators to embed First Nations perspectives in their practice.
As part of this national conference, ACTF-supported live action series Thalu (created by Weerianna Street Media) was screened at the NGA theatre, followed by a hands-on workshop with a simulated classroom lesson for participants.
Teachers examined the diverse range of personal and social capabilities demonstrated by the characters of Thalu then mapped their own personal skills and strengths.
Teachers then took on the role of students working in desk groups. They imagined themselves in place of the Thalu cast and strategically leveraged their individual and group skills and strengths to overcome the mysterious dust cloud which drives the narrative in Thalu. Groups recognised and celebrated the value of diverse traits, including being adventurous, resilient and collaborative.
Reflecting on the workshop, ACTF First Nations Learning Designer April Phillips said: "There was a focused fun energy in the room when the educators were at work in their groups. It was a great opportunity to connect with teachers and share meaningful ways to include First Nations screen content in the classroom."
Inspired to use Thalu in your own classroom? The 10-part series in available now in the ACTF Shop.