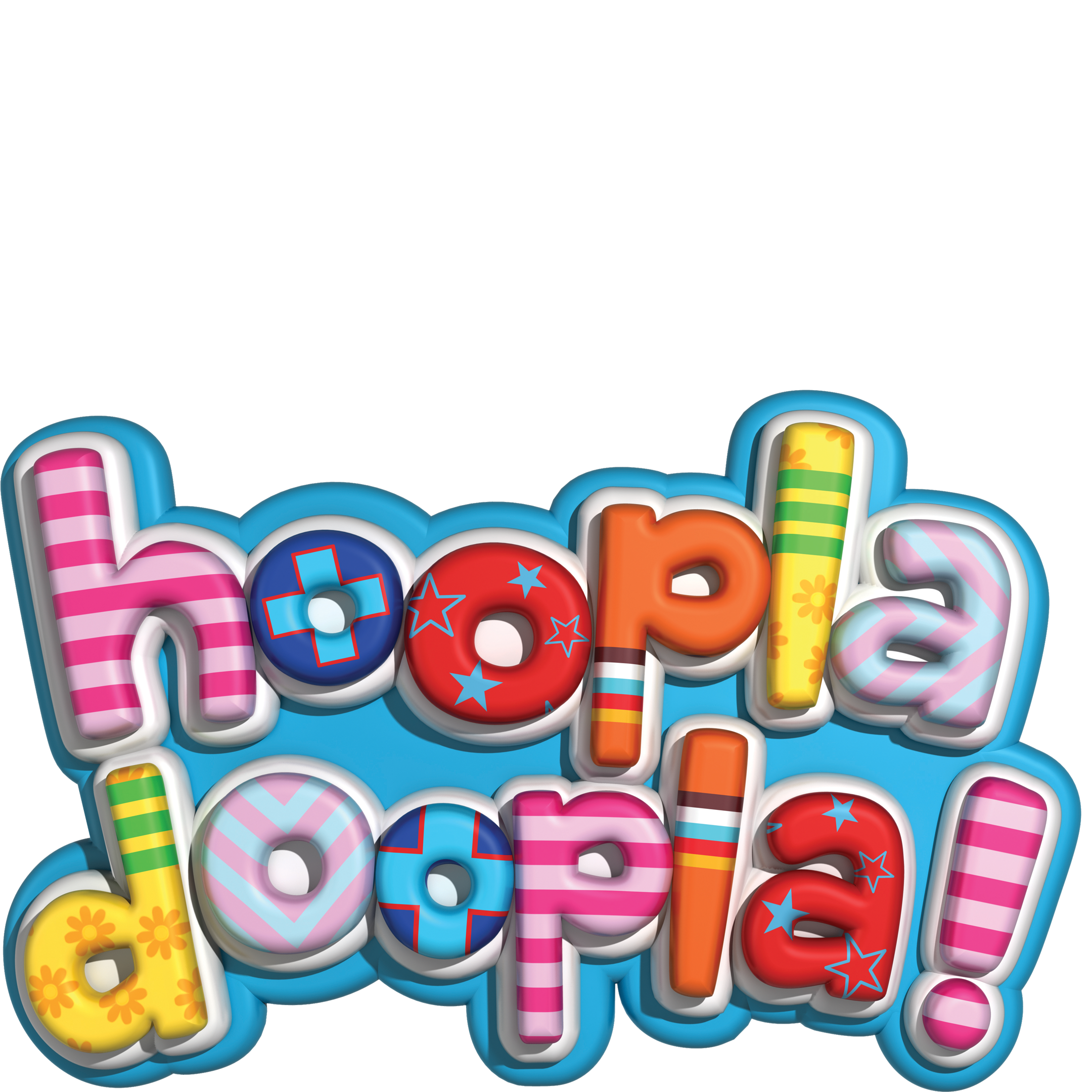 In the town of Hoopla, live six extraordinary characters - each with their own amazing physical skill.
Hoopla Doopla!
The Content Agency, 2014
In the town of Hoopla, live six extraordinary characters - each with their own amazing physical skill.
Mimi runs the café and looks after everyone in town while juggling muffins and milkshakes; Ziggy, the shop keeper, does magic tricks which go in surprising directions; Zap, the town messenger, delivers packages in the most acrobatic manner possible; Bop, Mr Fix-It is able to lift almost anything; flexible Squidgie looks after the town garden and can often be found inside a pot-plant, and finally Jango, the street sweeper, is always playing tricks and causing mischief.
Hoopla Doopla! is a unique and ground-breaking show for three to seven-year-olds, using physical action and comedy to drive the story. They tumble, juggle, leap and somersault in and out of trouble. However, whenever anything goes wrong - and it usually does - they always have each other to fall back on.
Episodes
Episode 1
Upsy Daisy
The Hoopla café door is stuck - Mimi is inside and everybody else is outside. All her friends try to help fix the door and rescue Mimi in time for morning tea. 
Episode 2
Big Squidgie
Ziggy wants to take a photo of everyone in Hoopla, with the tallest at the back and shortest at the front. Squidgie is the shortest, but she doesn't want to stand at the front. She wants to find a way be taller.
Episode 3
Shadowplay
Bop can't sleep, because he's sure he heard a monster outside his workshop. Zap suggests they catch the monster, and all their friends agree to help.
Episode 4
Zap's Alarm Clock
Zap sleeps in, because his alarm clock is broken. None of his parcels get delivered. His friends all have a loud solution, so that Zap won't sleep in ever again.
Episode 5
Mimi's Big Surprise
Mimi is sure none of her friends have remembered her birthday. However, they are planning a big surprise for her.
Episode 6
Hiccups
Bop has giant hiccups, causing the whole town to rumble and shake, and making it impossible for him to fix anything. Bop's friends come up with all sorts of suggestions for curing his hiccups.
Episode 7
The Dough Monster
Mimi decides to make an extra large pizza for everyone in Hoopla, but when she tosses the sticky pizza dough high in the air, it lands all over her. The others mistake her for a monster - a dough monster.
Episode 8
Squidgie's Day Off
Squidgie has a bad cold, and her sneezes and coughs sound like animal noises. Her friends think there are wild animals in her garden and try to rescue her.
Episode 9
Snow Business
Everyone in Hoopla is cleaning out junk, when Mimi finds her old ski outfit. She decides she wants to go skiing, but it isn't going to be easy on a summer's day with no snow at all.
Episode 10
Squidgie's Picnic
Squidgie's garden looks so beautiful that she decides to have a picnic for her friends. But, a big wind sweeps through Hoopla, turning her garden into a mess and breaking her rake. How is she going to clean it, in time for the picnic?
Episode 11
Sticky Situation
Bop is fixing Mimi's teapot with very sticky glue. It's so sticky that everyone in Hoopla gets stuck together. How are they going to get unstuck?
Episode 12
Jango the Joker
All of Jango's friends are too busy to play, so he tricks them into stopping work. But, Jango's tricks create even more work for his friends.
Episode 13
Magic Coat
Ziggy orders a special magic coat, so that he can learn a new trick. The magic coat works, and Ziggy makes his friends' things disappear. Unfortunately, he cannot make them re-appear.
Episode 14
Mimi's Perfect Pie
Mimi is making a beautiful apple pie for the picnic, but the apples keep disappearing. They look so delicious, that no-one can resist eating them. What will Mimi bake now, without any apples?
Episode 15
Zap's Special Delivery
Zap is going so fast that he has a big crash whilst delivering the mail, and all the parcels lose their address labels. No-one in Hoopla gets what they ordered, so Zap needs to find a way to deliver everything again.
Episode 16
Hula Hoopla
It seems that everyone in Hoopla has a hula hoop - everyone except Zap. So, Ziggy gives him a beginner's model, but Zap can't get his hoop to hula. 
Episode 17
Bop's Clumsy Day
Bop has a lot of things to fix, so he needs to go fast. However, the faster Bop goes, the more things he breaks. Mimi has an idea to Bop-proof Hoopla. 
Episode 18
Zap Gets Stuck
On his birthday, Zap decides to deliver his parcels quickly, by going down his slide with all the parcels. With so many parcels, Zap gets stuck. His friends must come to the rescue, so that his birthday party will be saved.
Episode 19
Tomato Trouble
The first tomato of the season is so delicious that Squidgie grows more and more and more, until her friends are sick of eating them. No-one wants to tell Squidgie, because they don't want to hurt her feelings.
Episode 20
Midnight Muncher
Detective Ziggy investigates who is eating the cafe food in the middle of the night. He is determined to solve the case of the Midnight Muncher.
Episode 21
Ziggy's Hidden Talent
Ziggy loves music, and is sure that if he had the right instrument, he would be a fantastic player. He orders several musical instruments in the mail, but all of his friends seem to be able to play them better than he can.
Episode 22
Bop And The Butterfly
One day, Bop sees the most beautiful butterfly in Hoopla. But, when he catches it, it begins to look sad. He asks his friends to help to cheer up the butterfly.
Episode 23
Sick Story
Hoopla is in a mess after a big storm, and Jango thinks it's too hard to clean up. So he pretends to be sick, and tricks his friends into doing his work for him.
Episode 24
Trading Places
It is the Lantern Festival, and Bop needs help to make the lanterns. If Zap helps Bop make lanterns, then who will do his deliveries? If Mimi does deliveries, who will make the dumplings? Soon, everyone in town has traded places.
Episode 25
Sporty Jango
It is the Hoopla Sports Day, and every year the winners receive special prizes made by Squidgie. Jango has never won one before, so he is determined to win this year - even if it means tricking his friends.
Episode 26
Dinosaur
Bop wants to see a real dinosaur, so he decides to look for one in the town square. He is disappointed when he can't find a single one, so his friends come up with a clever plan to help Bop see a dinosaur.
Episode 27
Jango's Big Clean Up
It is autumn in Hoopla, and Jango is having trouble sweeping up all the leaves. So, Bop turns Jango's vacuum cleaner into a leaf blower - which accidently blows leaves and dirt all over Jango's friends. 
Episode 28
Happy Snaps
Squidgie wants to take photos of all her friends, to hang on the walls of Mimi's café. So, she borrows Ziggy's camera - but taking photos isn't easy. 
Episode 29
The Lost Thing
Bop can't sleep, because he's lost his favourite teddy bear, Spanna. Everyone decides to help find Spanna, so that Bop can get a good night's sleep.
Episode 30
Moonwalk
Zap decides he wants to walk on the moon, so Bop builds him a set of wings - but, they don't seem to work. Zap's friends decide that if they can't get Zap to the moon, they can bring the moon to Zap.
Episode 31
Jango The Genie
Jango pretends to be a genie, and grants Bop a wish in exchange for a basket of apples. But, how is Jango going to make Bop's wish come true?
Episode 32
Treasure Map
Squidgie and Jango make a treasure hunt for their friends. But, after three tries with three different leaders, they still haven't found the treasure! What are they going to do?
Episode 33
Squidgie's Plant
Squidgie lets Bop borrow her favourite plant for a few days, to brighten up his workshop. But, in the morning the plant looks sick. Bop doesn't want to return the plant until it's better, so he needs his friends to help.
Episode 34
Ziggy Goes Camping
Squidgie invites her friends to go camping in her garden - everyone is excited except Ziggy, who does not like the idea of camping. Ziggy's friends decide to change his mind, and show him how much fun camping can be.
Episode 35
The Smell
Mimi is unaware she has broken some old eggs in her apron pocket, and wonders what is making such a terrible smell. She asks her friends to help to find where the smell is coming from. 
Episode 36
Zap's Whistle
Jango's nap is disturbed by Zap's loud mail delivery whistle, so he secretly swaps it for a quieter one. 
Episode 37
Swap Shop
All the clutter around Hoopla gives Zap a great idea. He will organise a swap market, so everyone can swap stuff they don't need for things they really want.
Episode 38
The Ziggy Hop
Hoopla is having a dance party, and everyone is excited - except Ziggy, who thinks he is far too clumsy to dance. 
Episode 39
Ziggy's Hat Trick
Ziggy has a new magic trick that he wants to show all his friends. However, he needs his magic hat to perfect the trick - but, his magic hat has gone missing. 
Episode 40
Bop And The Clock
Bop's job is to wind the town clock before everyone wakes up. One day, he decides to move the clock forward, so his friends wake up earlier (and morning tea will be earlier), but everyone in Hoopla relies on the clock being on time.
Episode 41
Ziggy The Invisible
Ziggy orders a special magic cloak that will make him invisible, but when the cloak doesn't work, his friends pretend that they can't see him. 
Episode 42
The Robot
Bop promises to build a giant robot, but it's more difficult then he thought. Not wanting to disappoint his friends, Bop dresses up in a giant robot costume instead.
Episode 43
The Magic Pumpkin
Squidgie has planted pumpkin seeds, so they will grow into Halloween pumpkins. But, her pumpkins are not growing - and it will soon be Halloween. Luckily, Jango has a tricky plan.
Episode 44
The Hungry Dragon
Everyone in Hoopla loves the dragon boat festival - especially Jango, who loves it because Mimi makes delicious sticky rice dumplings. Jango sneakily eats all the dumplings, and pretends that there is a hungry dragon in Hoopla.
Episode 45
In A Fix
Bop has a lot of things to fix. But today, he decides to make things even better than they were before.
Episode 46
Best Friends Day
Zap and Bop are best friends, and decide to celebrate and with a special day - but, Best Friends Day does not go as well as expected.
Episode 47
King Jango
Jango dresses up as a king, and his friends mistake him for a king visiting Hoopla. So, Jango decides to trick them into preparing a king-sized feast.
Episode 48
Hoopla Fire Brigade
Jango is determined to be picked for the Hoopla Fire Brigade. 
Episode 49
The Sneaky Snacker
Jango loses his new pet caterpillar, and follows the trail of eaten leaves, vegetables and fruit. He must find him, before the others realise his pet has caused all the damage. But, Detective Ziggy is close behind.
Episode 50
Mimi's Holiday
Mimi is so tired that she needs a holiday, but can't decide where to go. So, her friends take her on three pretend holidays to help her choose.
Episode 51
Squidgie's Present
Squidgie is always giving presents to her friends. So, they decide they should do something to show how grateful they are, by organising a special present for Squidgie.
Episode 52
Ziggy The Hero
Ziggy wishes he was just like his favourite superhero. So, he makes himself a costume, and goes to find someone to rescue in town.
Awards
2014 Asian Television Awards
Highly Commended - Best Preschool Programme
2014 AWGIE Awards
Winner - Children's Television P

Running Time
52 x 12 mins
Production Company
The Content Agency
Language
English, Chinese
Genre
Preschool
Year level
Curriculum Study Areas
Themes